I'm excited to be linking up with these lovely ladies again.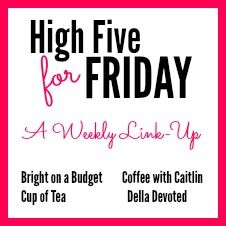 1. I'm going to see my MIL and my grandparents this weekend!
I'm pretty excited to be going back to visit.
I haven't seen my grandparents since my cousin's funeral in August/September (can't remember which).
2. This week went by super fast.
I didn't have students on Monday so it seemed like this week went pretty darn quickly.
I can't complain.
3. I don't work tomorrow.
I work all the time.
Literally.
Three jobs...I'm generally working every day.
But I have a day off tomorrow!
4. I got a promotion at one of my jobs. :)
I'm going to get a fancy title & a raise.
Boom.
5. I'm officially a member at the church Daniel & I started going to.
So excited to be back there and a part of it.
Daniel has completed membership classes but has to wait for the service to be "official"
That's about it this week.
Small things.
But great things.