Here in the last couple years, I've found faith and it's really been growing.
How is a story for another time.
But for now, I've decided I wanted to try a little something I'm going to call:
Scripture Sunday
Here's how it's going to work.
I'm going to pick out a piece of scripture that I like, that's had an effect on my life, etc. and tell you a little bit about what it means to me.
Ready?
Here we go.
Philippians 4:13 - I can do all things through Christ who strengthens me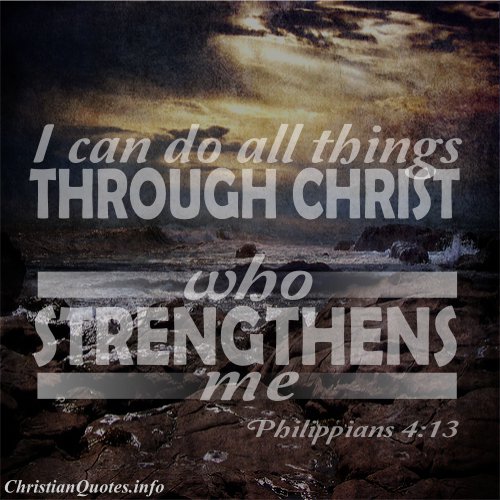 Flashback to my sophomore (maybe junior?) year of high school.
I thought I was a "Christian", but I didn't really have a grasp on the meaning of that word like I do now.
Anyway, I went to a Christian concert with a couple of friends because there was nothing else to do in my small town.
I really enjoyed a band called Bread of Stone, so I bought their sweatshirt and since it was a really small thing, the artists were all around to talk to people afterwards, sign autographs, etc.
They all signed the back of my sweatshirt.
One of the band members wrote out the verse Philippians 4:13 (see above).
From that point on I really liked that verse.
Flash forward a little through the next few years.
I was depressed. Although I didn't yet have the actual diagnosis (that came my sophomore year of college), I knew that's what it was.
There were times I would call on this verse to try to help me through some hard times (though if you know any of my story, you know it didn't always work).
Flash forward to Winter Jam 2013.
For those of you who don't know, Winter Jam is a Christian festival.
For $10 you can see 10 bands and hear the gospel music.
I had started going to a fellowship group on campus and one of my friends from this group invited me because he knew I was having a really hard time (more on that later).
I agreed to go and fell absolutely in love with the performer Matthew West.
He had a relatively new song out at that time called "Stronger".
This song spoke to me.
I know I'm not strong enough to be everything that I'm supposed to be.
In this song, he sings this verse.
That was when I knew that I should be listening and that there was more for me out there.
This verse, and this song, ultimately led to my salvation.
But, more on that later. :)
If you're a Christian, tell me, what's YOUR favorite scripture?